One House, one family - unique know-how
In the heart of a breathtakingly beautiful region, Touraine, on the banks of the largest wild river in Europe, the Loire, discover the great Touraine wines of the Chainier family Domaines.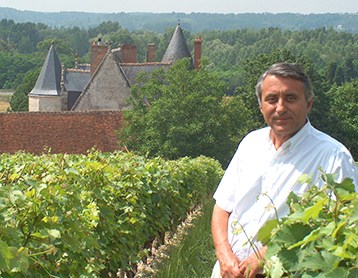 The history of the Chainier family goes back to the 18th century, when Pierre Chainier's ancestors cultivated vines in the Bordeaux region. This tradition has been passed down from father to son and the Chainier Company today brings together a number of professional players, wine-growing businesses and major importers.

The Chainier family estates are filled with history and reflect the rich heritage of Touraine. The châteaux located on ancient terroirs overlook the Loire on the canton of the Château d'Amboise, once frequented by the greatest Kings of France and cultural figures. Leonard de Vinci, Cézanne, Proust, the Princesse des Ursins and the Daudet family came to stay in this region where wine has been produced since the 4th century, in the time of Saint-Martin.

The diversity of the soils and the microclimates of the region - the birthplace of outstanding grape varieties - mean that an incredible variety of wines can be produced. The combination of this outstanding land and the love of the Chainier family for their vines makes for unique blends, for powerful and delightful wines which are received as well in France as they are abroad, and which have received the most prestigious of awards.

Only with the passionate care of these people, their expertise, choosing the best varieties and the best growing conditions, have the Chainier family estates been able to become major Vineyards renowned across all 5 continents.
Pierre Chainier is the pioneer of integrated crop management: listening to the earth, a fundamental value for the Chainier family, passed on to the youngest members.
Today our vineyard, located in the heart of Touraine, stretches over almost 250 hectares and produces the finest wines on the most prestigious terroirs of Touraine.
Come and discover our Domaines and enjoy a majestic setting, located in the heart of the Loire Valley, where for centuries we have been growing delicious grape varieties against the backdrop of an unrivalled lifestyle.
Our different Domaines: