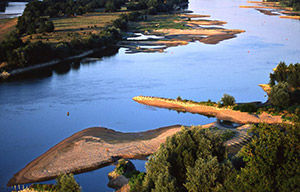 "Shame on he who fails to admire my joyful, beautiful, courageous Touraine and her seven valleys which flow with water and wine!" Honoré de Balzac - The Two Friends
Balzac was not wrong there. Long loved by kings, Touraine is home to fascinating wine-growing land which is several centuries old. Today classed as a world heritage site by UNESCO, few places in the world offer as many different terroirs and varied appellations over an area of comparable size.

The diversity of soils, hilly areas, orientations and microclimates are favourable for the production of a large variety of wines. It was therefore natural that, from châteaux in estates to vineyards in plots, Pierre Chainier should find his chosen land here and his dedicated vocation - wine!
With ancestral know-how, teams of experts and cutting-edge innovative methods, he thus managed to put together one of the largest vineyards in the region in the most prestigious terroirs and on the plots giving the best crus.
Touraine is also home to the longest "vineyard route" in France, punctuated by incredible cultural heritage and an extremely varied landscape. Vines have been omnipresent here since Gallo-Roman times and their wine is an integral part of Touraine culture.
So come and discover all of this rich diversity of nuances and aromas!