​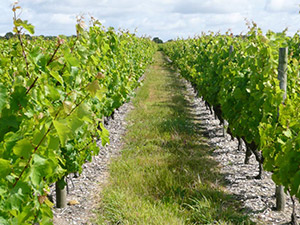 Clos du Gaimont is made up of 4 hectares of vines all on one plot. It is located on one of the best Vouvray terroirs with an ideal south to southwest exposure.
The terroir, which is composed of 30% limestone, provides the vines with a constant supply of water and minerals, which is conducive to perfect maturation and which bestows upon the grapes the balance and strength that Vouvray is known for. The vines, 35 years old on average, combined with a temperate climate, produce outstanding grapes which are expressed in the wine made from them in many different ways, flirting between sweetness and liveliness.
A top quality wine and a symbol of our beautiful Touraine, Vouvray is expressed by the strength of Chenin blanc otherwise known as Pineau de Loire, and comes into its own in our region as it does in no other. The quintessence of this wine lies in its lightness and its finesse. Fruity and intense, its delicate aromas intensify your senses.
Combined with the maison's know-how, today Clos du Gaimont produces the best Vouvrays of the appellation.
Additional information :

Surface area
4 hectares
Grape varieties
100% Chenin Blanc
Cultivated according to the principles of integrated crop management
Distribution
50% in France, 50% for export
Leading countries for Export
USA, England